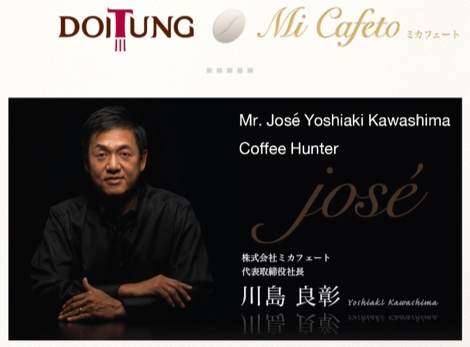 The Doi Tung Development Project (DTDP) hosted the first Coffee Salon by inviting Coffee Hunter Mr. Jose Yoshiaki Kawashima to collaborate
on the workshop: "What Makes the Quality of Coffee?" Participants consisting of influencers, café owners, and press from various backgrounds with a love for coffee were invited to the Mae Fah Luang Foundation under Royal Patronage (MFLF) office on 23-24 January 2016.
M.L. Dispanadda Diskul welcomed the participants with an opening remark on the new direction of the Doi Tung coffee, which was granted a European Geographical Indication.
There were sessions on coffee talk followed by coffee tasting with an aim to highlight the holistic approach behind quality coffee as well as to demonstrate Doi Tung drip coffee method. Participants had the floor to exchange their opinions and expertise with Mr. Kawashima and DTDP Programme Manager Ms. Wipawa Chuenchit. During coffee tasting, coffee beans from Doi Tung, Guatemala and Panama, each of different elevation, process, and varieties, were carefully selected for the participants to note the differences between aromas, taste, texture, color, among other characteristics. Undeniably, the most popular cultivar is the exceptional taste of Arabica Geisha.
Mr. Kawashima has more than 30 years of expertise in the coffee industry worldwide. He shared the valuable insights, gained through his journey, with the participants, one of which is that quality coffee beans do not have to necessarily grow on high elevations.
Reference: Coffee Salon: "What Makes the Quality of Coffee?"